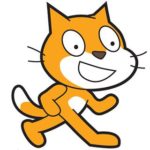 This summer, Mediatech will run Scratch Camp 9 am-12 noon Monday through Friday for six weeks with extended Mediatech Center hours.
According to Wikipedia:
Scratch is a free visual programming language developed by the MIT (Massachusetts Institute of Technology) Media Lab. Scratch is used by students, scholars, teachers, and parents to easily create animations, games, etc. It provides a stepping stone to the more advanced world of computer programming. It can also be used for a range of educational and entertainment constructionist purposes from math and science projects, including simulations and visualizations of experiments, recording lectures with animated presentations, to social sciences animated stories, and interactive art and music.
The dates for Scratch Camp are:
Week 1: June 24th – June 28th
Week 2: July 10th – July 14th
Week 3: July 17th – July 22nd
Week 4: July 24th – July 28th
Week 5: July 31st – August 4th
Week 6: August 7th – August 11th
Mediatech Camps and the Center are well supervised. The lead teacher is a certified educator with coding and tech experience. Call the library at (908) 782-5733 to put your child on the list. Spaces fill up quickly! The cost is $100 per student. Scholarships are available and donations for scholarships are tax-deductible and greatly appreciated. Mediatech is a 501(c)(3) non-profit organization.